I worked with PVL on a project retrofitting two three storey apartment buildings containing 44 suites. The retrofit involved stripping the buildings down to the framing and completely refinishing. PVL came to this project at a difficult time after it had been abandoned part way through and left in disarray. By being well organized and efficient PVL was able to get the project moving again for a reasonable cost and within a fairly short time frame.
MAIBC Boni Maddison
Based in a diverse and expansive region Progressive Ventures has learned to adapt our services to the needs of the area. To rise to the needs of our clients we have expanded our services to ensure we can add value to any project.
Through prioritizing our clients vision we take pride in catering our projects to the individual client's needs. We have developed our model through the last 50 years and continue to hone it to today's changing environment.
"Safety first is safety always" is our motto and goal for every project. Our team makes every effort, at substantial completion stage, to ensure all deficiencies, warranty items, as-built drawings, and maintenance manuals are completed expediently and in an efficient manner.
Buildings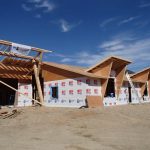 From Full Cycle building construction services, design builds, and steel buildings to concrete work, carpentry, renovations, repairs and maintenance we are here for all your building needs.
Earthworks & Civil Infrastructure

From municipal and civil infrastructure to excavation, foundations, grading, road maintenance, gravel trucking, snow clearing, and landscaping we are ready to take on your earthworks project.   
Metal Buildings

Working with structural steel and with pre-engineered buildings allows us to supply and install a full range of steel structures.
Trucking & Logistics

Servicing all Northern BC and the Yukon our fleet includes tractors, low-beds and a variety of other heavy trailers, dump trucks, an 11T Hiab, a service truck, a welding truck, and a variety of small trailers.
Design-Build & Pre-Construction Services

Working directly for our clients, we take a project from conceptual stage through feasibility, design development, zoning/permitting, pricing, construction, and commissioning.  We have a strong network of professional consultants to provide survey, architectural, geotechnical, electrical, and mechanical engineering for any project. Key Benefits
Construction Management

Working as the owner's representative to manage their project, we prefer to get involved early to assist with feasibility, budgeting, scheduling, and design development.  We will prepare tender packages for sub-trades, assist the owner in selecting and implementing trade works, and remain involved to manage the sub-trades and ensure the project stays on schedule and budget.
General Contracting

Progressive Ventures has developed a team of highly qualified and experienced management and site supervisors capable of undertaking all types of major construction projects.  We make a point to work with high quality and competitive suppliers and sub contractors.