Sensitive Environmental Work
Mining Exploration Support
Committed to safe work sites
Complex Project Logistics
First LEED certified General Contractor outside BC's Lower Mainland
I am writing to express our thanks for the facilities you have constructed…  The cooperation we received as a Tenant in the building and the quality of the workmanship is second to none.  We would not hesitate adding your name to the bidders list on future projects.
Manager of Construction, SAAN Stores

Project Coordinator
Lisa brings with her an extensive amount of knowledge and experience of the Construction Industry to Progressive Ventures Construction. She presents a strong ability to manage quality and timelines with efficiency and has become an integral part of our team.

Project Coordinator
Jamie is well established in Progressive Ventures company and has began a new role in our project team. She brings with her, her exceptional skills in maintaining and monitoring project plans, project schedules, work hours, budgets and expenditures. In which will assist her to ensure projects keep to their frameworks, assess project risks and issues and provide solutions where applicable.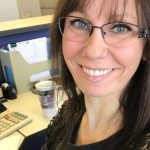 Project Coordinator
Shana brings with her comprehensive knowledge and experience in the Construction Industry. She demonstrates exceptional attention to detail and timelines, and is an asset to our team.